After getting my reverse trike onto the road last year and putting a couple of hundred miles under the wheels, I found the handling to be really bad. It was great in corners, but on bumpy straights she wanted to tramline all the time.
At the time I got her built she looked like this...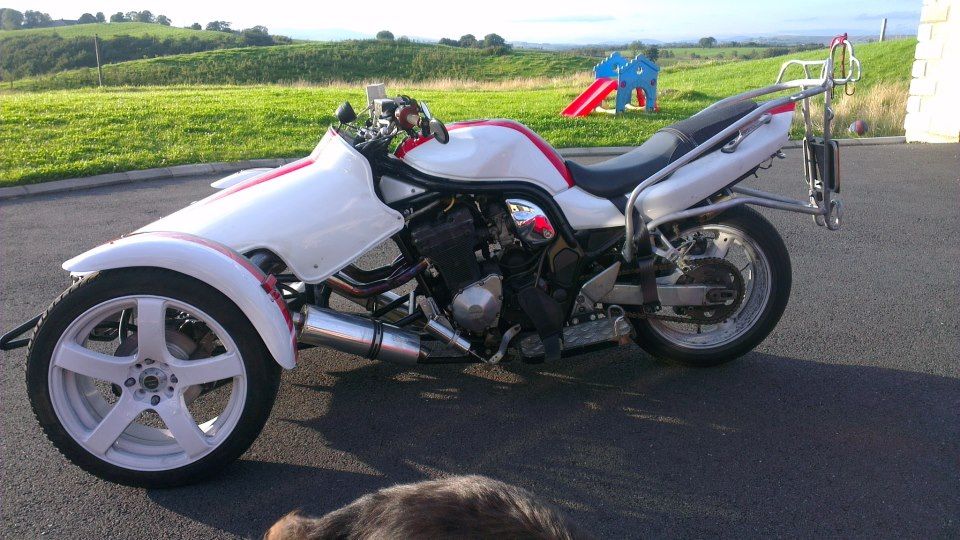 I figured that the weight was too far back, going on the premise that the weight needs to be centered as close to the widest point for a trike to handle well (info from several trike forums and builders) As you can see, in the first version she looks to be very rearward biased.
I figured one way to move the weight forward was move the rear wheel back, so I picked up a lengthened hayabusa swingarm off ebay.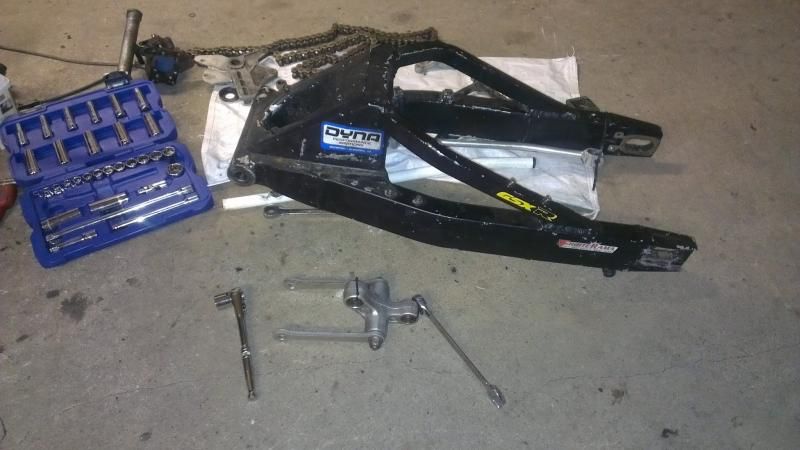 Following the FAQ's on the forum on fitting different swingarms, I got the pivot machined down to fit the MK1 frame and made up some adjustable dog bones so I could play around with the ride height. I then found that I had to get the hayabusa wheel and brakes (though it turned out SRAD 750 gear is the same and fitted fine), as well as a hayabusa shock linkage which I then mounted to the center stand mounts.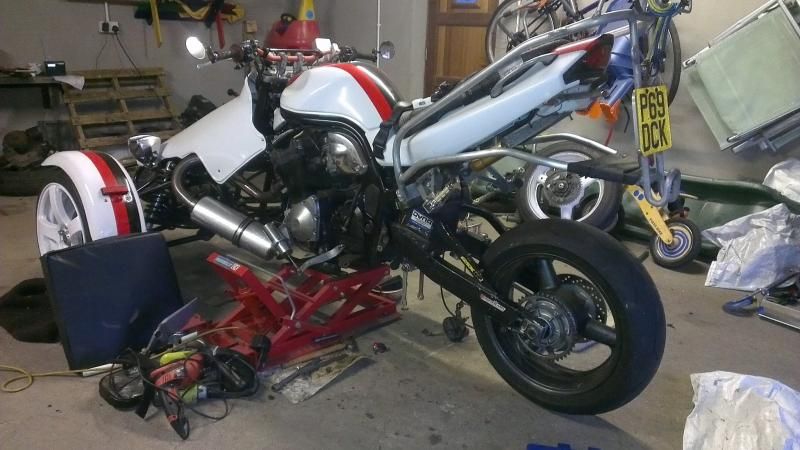 i had worried that this setup might cause chain rubbing issues, but since I have a car tyre mounted on the rear wheel, there is no overhang over the rim and the chain clears the swingarm and tyre nicely.

With the rear wheel now much further back, I found that this was going to clobber the wheelchair rack. I took it off until I had come up with something else. This meant I also lost the mount for the handbrake (needed for the MOT for a trike) Since the exhaust pipes now exit up front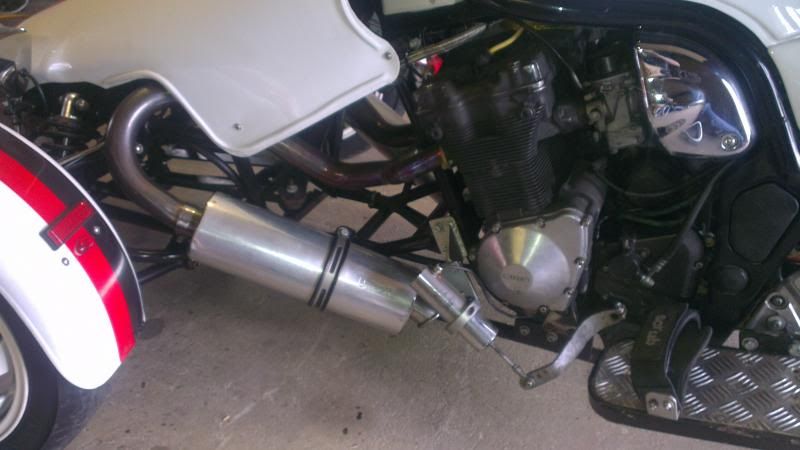 I was able to use the existing silencer mount to attach a section of 7/8" alloy handle bar to hold the locking lever and cable routed to the quad bike caliper.

I still had to have some way of carrying my wheelchair so I bought a renntec rack of the forum here as
A) it was steel and I could modify it myself and

it was cheap and if I ballsed it up it wouldn't matter too much.
I offered it up to the axle tube and main seat support of my chair and found it was an almost perfect match, so I got some 20mm inside diameter steel tube and cut it along it's length and welded it to the rack to clamp the seat brace. The existing rack rail would hold the axle clamp and it all stays on with bungee ropes.


As you can see, this is much smaller and neater than the previous version and it easier for me to load the chair onto myself.
So after powder coating, fitting etc that was the mods to the back end sorted.
I was still worried that the 225mm wide car tyres up front were just too wide, and therefore contributing to the wandering and tramlining at the front end. I looked around for suitable bike wheels that had a 4 stud pattern, the obvious being VFR750/800 back wheels. However, these being a 180 section, I wasn't really reducing the contact patch by that much. I then looked at a VFR400 back wheel, but these were an 18" and would need a spacer machined to match the 100mm stud spacing to the 108mm stud pattern on my cossie hubs.
A random search on ebay found that the Ford Focus ST170 actually used a 16" alloy space saver spare wheel. At 130mm wide it would take a motorcycle front tyre and it was nice and light. Once powder coated it also looked OK (not like the standard steel versions anyway) So I sourced two of them, got them powder coated and fitted a pair of pirelli motorbike tyres and they popped straight on.
I was worried that they would look too skinny compared to the wider mudguards and would mean I'd have to source, paint, wire and fit a pair of bike mudguards, but I think they look OK. I may or may not change my mind over the winter.

The end result of all this is that the handling has seriously improved. It still takes a bit of concentration on a bumpy road, but even the Canam's with their computer controlled stability systems suffer from a bit of instability in these situations. It's at the point now where I look for an excuse to take her out for a spin now, whereas before i was looking for an excuse not to!.
Still to do? Well I need to upgrade the clutch as it takes a lot of abuse from the extra weight and I have a stage 2 jet kit to stick on to clean up the fuelling. Getting her onto a dyno is going to be a bit of an effort though.
What do you think guys?